Engraving and Artwork Policy
All artwork must be submitted in a black & white vector format (common vector formats include: .ai, .eps, .svg, .pdf). Raster image files (JPG, PNG, TIFF) will not be accepted for logos. (Raster images saved into a vector file format will not be accepted, as it is still a flat image.)
All fonts must be converted to
outlines/paths or sent as .ttf/.otf files via email.
All fonts and artwork must have at least a 1pt line weight within the negative and positive spaces at the production size.
All artwork must be 1/4" from the edges and bevels of the pieces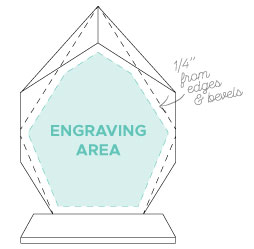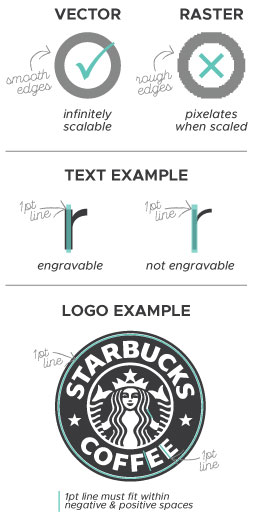 Artwork fees will apply to any logos or artwork that do not meet these requirements
 All logos and text must be submitted in color vector

format (common vector formats include: AI, EPS, SVG, PDF). Raster image files (JPG, PNG, TIFF) will not be accepted for logos. (Raster images saved into a vector file format will not be accepted, as it is still a flat image.)

Photographs must be 300dpi at the size in which the photo will be produced, and must be embedded in the artwork file.
All fonts must be converted to outlines/paths or sent as .ttf/.otf files via email.
All fonts and artwork must have at least a 1pt line weight within the negative and positive spaces and must be at least 8pt in size to guarantee legibility.
All artwork must be 1/4" from the edges and bevels of the pieces.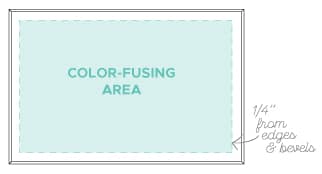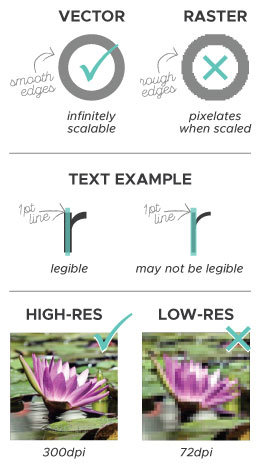 Artwork fees will apply to any logos or artwork that do not meet these requirements